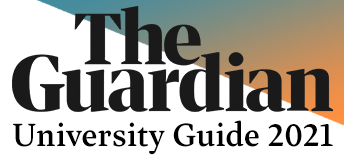 全英國排名第89名
2022年英國大學排名-Studyin-uk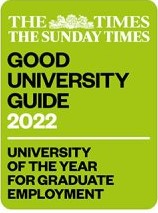 全英國排名第124名
CUG 完整的大學指南 – 2023 年大學排行榜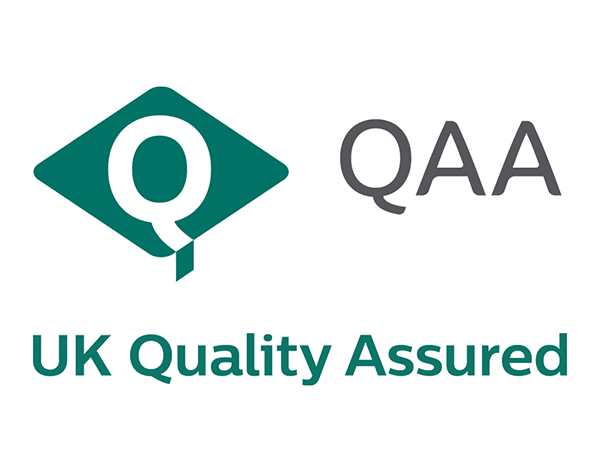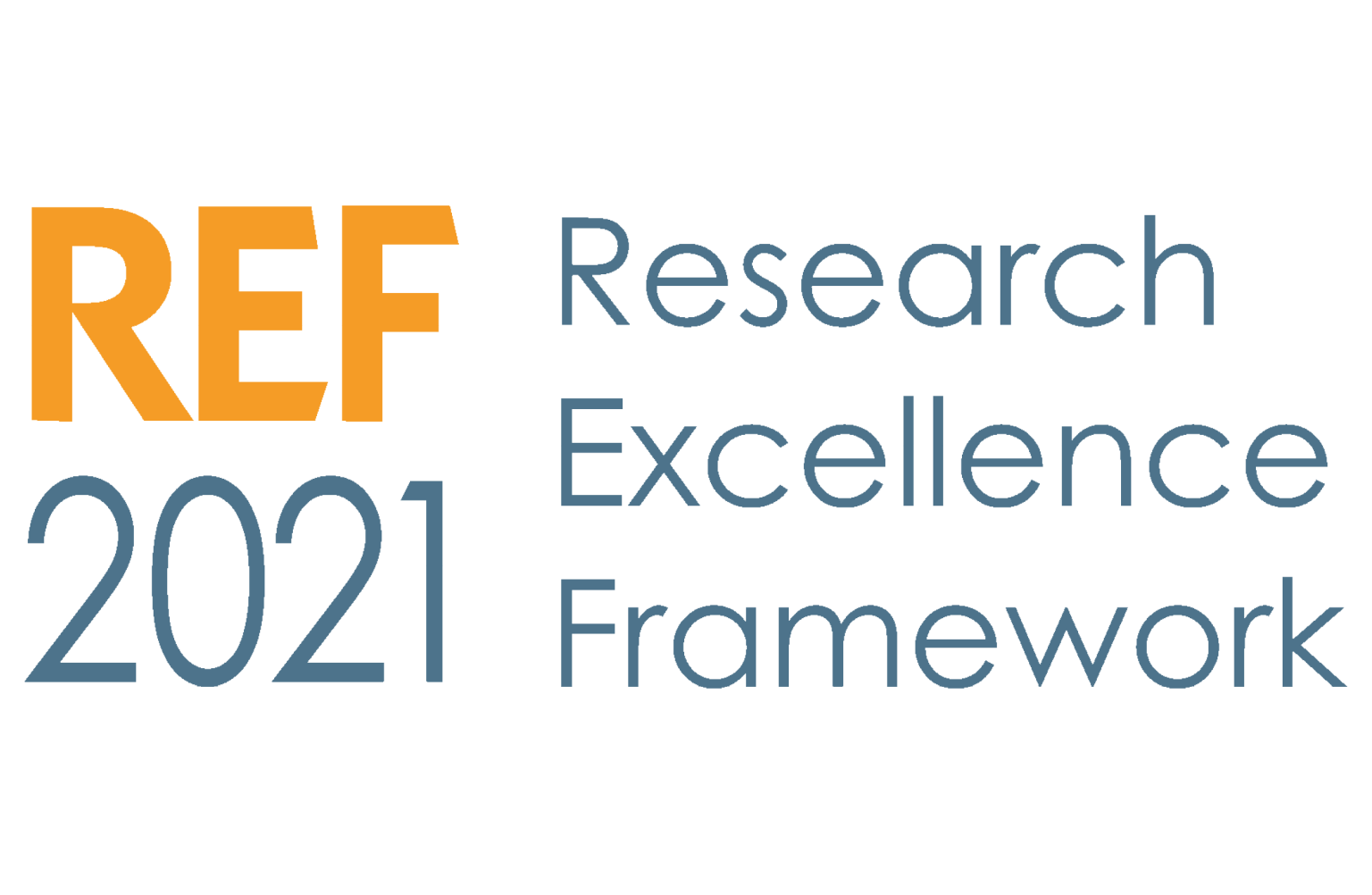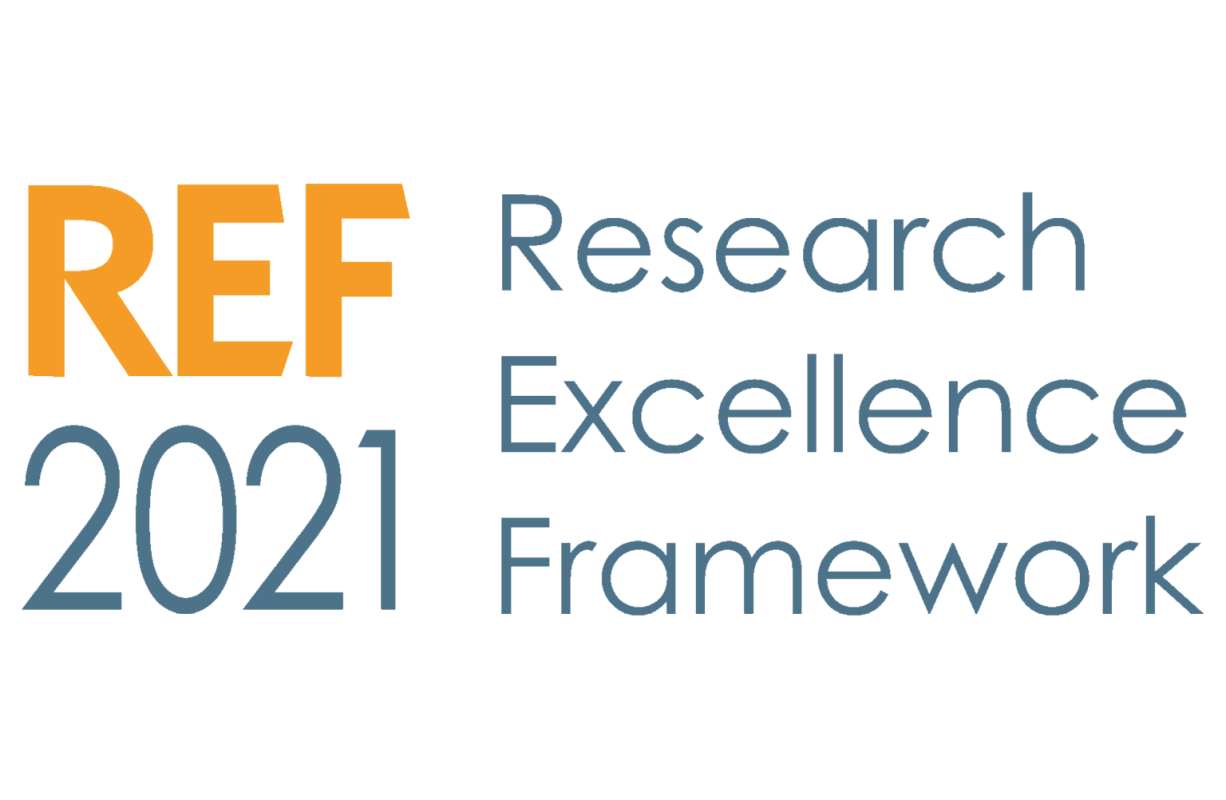 頒授機構
University of Bolton, WINC
Progression Pathway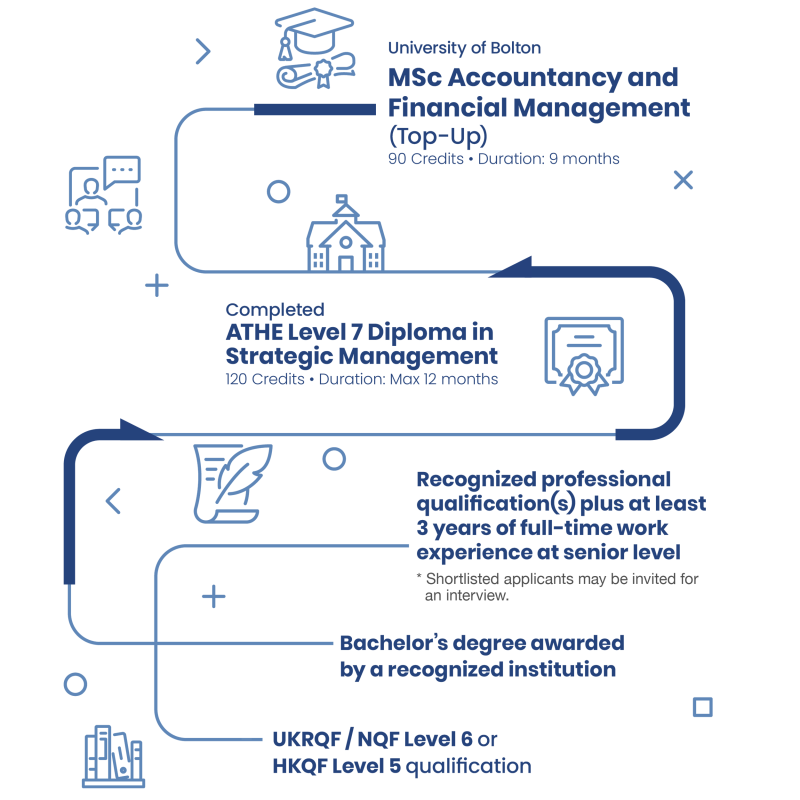 入學條件
• UK RQF/ NQF Level 6; or HKQF Level 5 qualification or
A bachelor's degree awarded by a recognized institution or
A recognized professional qualification (s) plus at least 3 years of full-time work experience at senior level.
Shortlisted applicants may be invited for an interview
英文能力要求
IELTS 5.5; Reading and Writing must be at 5.5 or
HKALE Use of English at Grade E or above, or HKDSE Examination English Language at Level 3 or above or
Satisfy the examiners in UK EDUCATION qualifying examination, if required.
Your existing educational qualifications and work experience will be directly taken into account, allowing for module exemptions whenever possible.
Please make an enquiry below.
ATHE Level 7 Diploma in
Strategic Management
開始日期:隨時
持續時間:隨時
學習方式:遠程學習
結構: 2 科必修課程加 2 科選修課程,無需考試
Mandatory Units
Select at least two of the following:
1. Strategic Planning
2. Finance for Strategic Managers
3. Research for Strategic Development
4. Organisational Behaviour
5. Personal Development for Leadership and Strategic Management
Optional Units
Select at least two of the following:
1. International Business Environment
2. Developing Organisational Vision and Strategic Direction
3. Human Resource Management
4. Project Management
5. Strategic Resource Management
6. Risk Management
7. Managing Stakeholder Engagement
8. Corporate Communication Strategies
9. Leading Organisational Equality and Diversity
10. Sustainable Business Strategy
11. Managing Quality and Service Delivery
12. International Finance
13. Quantitative Methods
14. Strategic Marketing
15. Corporate Communication Strategies
16. Strategic Human Resource Management
17. Managing Continuous Organisational Improvement UK
博爾頓大學 (University of Bolton) 會計與財務管理理學碩士
這個課程模組序列引導學生透過發展全面性的研究計畫、展現組織領導能力以及在會計或財務管理領域進行廣泛的研究專案。第一個模組著重於建立研究計畫,該計畫將成為論文的前三章。學生將制定研究目標、了解研究背景,並建立資料分析的概念框架,同時學習研究哲學、策略、方法和倫理。
第二個模組,策略商業領袖,著重於組織領導能力和高級顧問或諮詢能力,透過整合案例研究來實現。課程大綱涵蓋了組織在領導能力的背景下的主要功能,並融合了應用技能級別考試和倫理和專業技能模組的內容。此模組還強調創新、卓越表現、變革管理以及顛覆性技術在轉型商業分析和交易中的角色。
最後一個模組,論文,為學生提供在會計或財務管理領域進行廣泛且重要的研究機會。此模組使學生能夠綜合學術知識,對相關問題進行評估和批判性討論,並展現對來自不同來源的知識的批判性掌握和運用自主性。透過此過程,學生提升了解決問題的能力,假設形成和測試技能,以及整體專業發展,為他們在所選領域中的職業晉升和成功做好準備。
研究計畫發展單元
這個單元是論文的前導,引導學生發展全面性的研究計畫。研究計畫將成為論文的前三章。學生將致力於建立清晰的研究目標,並瞭解研究背景,貢獻於論文的第一章。此外,學生還將在對相關文獻進行批判性回顧後,制定適當的概念/分析框架,貢獻於論文的第二章。此模組幫助學生就適當的研究哲學、策略和方法做出明智的決策。還將探討三角測量、可靠性、效度和研究倫理等主題,從而形成一個批判性堅固的研究設計,成為論文的第三章基礎。
策略商業領導單元
策略商業領袖單元旨在幫助學生在整合案例研究的背景下展現組織領導能力、高級顧問或諮詢能力,以及相關的專業技能。作為戰略專業級別的重要領導力課程,這個全面性的整合性考試要求考生展現有效領導者或為高級管理層提供建議或支持所需的各種專業技能。課程大綱涵蓋了組織在領導框架內的主要功能,並融合了應用技能級別考試和倫理和專業技能單元的內容。學生需要在考試答案中展示各種專業技能,增強他們的就業能力和晉升機會。此模組還著重於創新、卓越表現和變革管理,以促進組織成功,並通過有效的流程、IT解決方案和項目管理實施變革,包括顛覆性技術在轉型商業分析和交易中的角色。
專題論文單元
專題論文單元為學生提供進行深入和廣泛的研究專案的機會。它使他們能夠整合從碩士課程中獲得的學術知識,並對與會計或財務管理相關的問題進行批判性討論。該模組的主要目標是幫助學生發展高度自主性,在批判性地掌握和運用來自各種來源的知識以支持其專業發展方面。此外,該模組旨在提高學生識別問題、確定其重要性、制定假設或命題、設計檢測假設的方法以及評估結果的能力。雖然論文模組的規格在學校提供的所有碩士課程中都是一致的,但學生必須選擇直接與其特定課程的論文主題相關的主題。