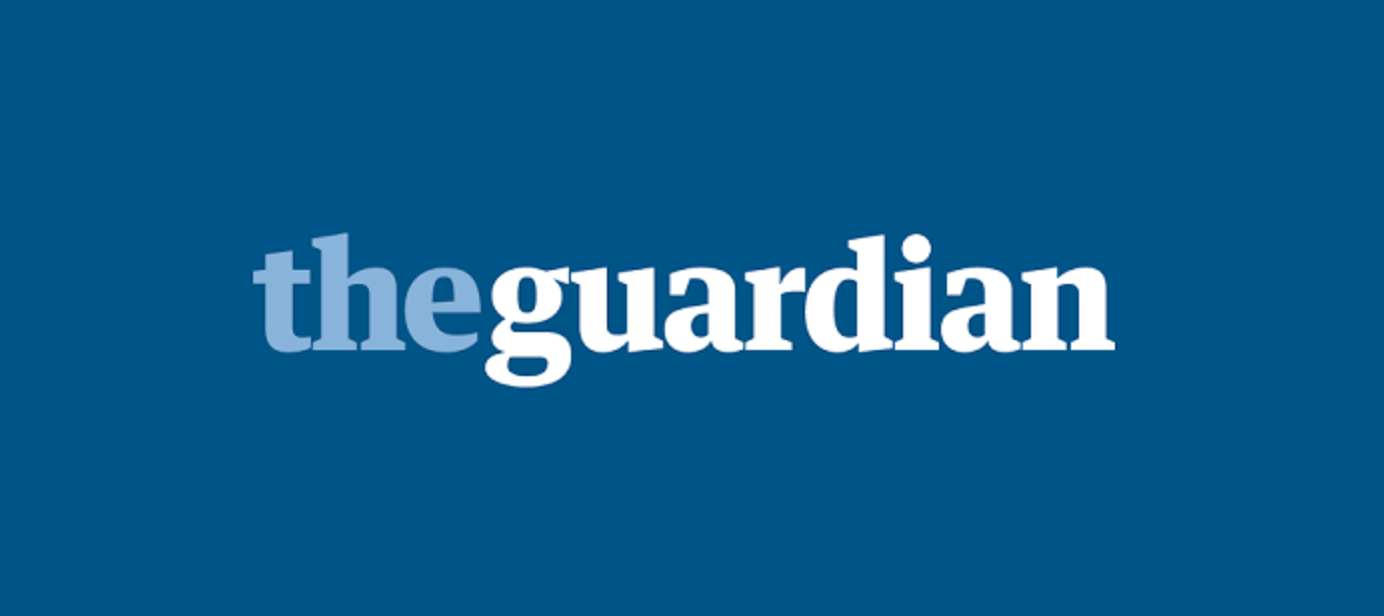 全英國排名第89名
2022 年英國大學排名 – Sunday Times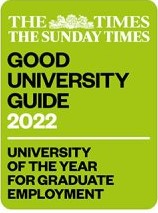 全英國排名第124 名
CUG 完整的大學指南 – 大學排行榜 2023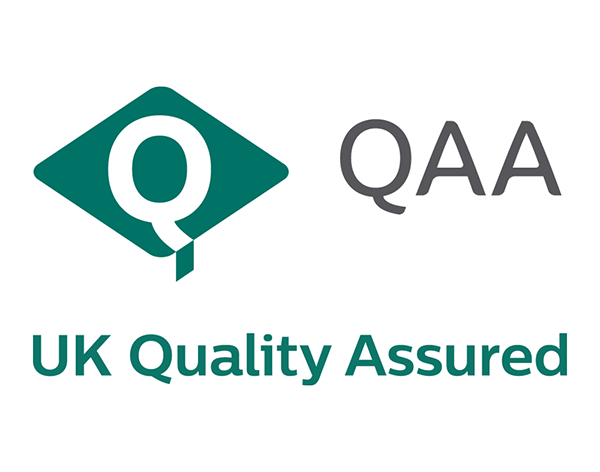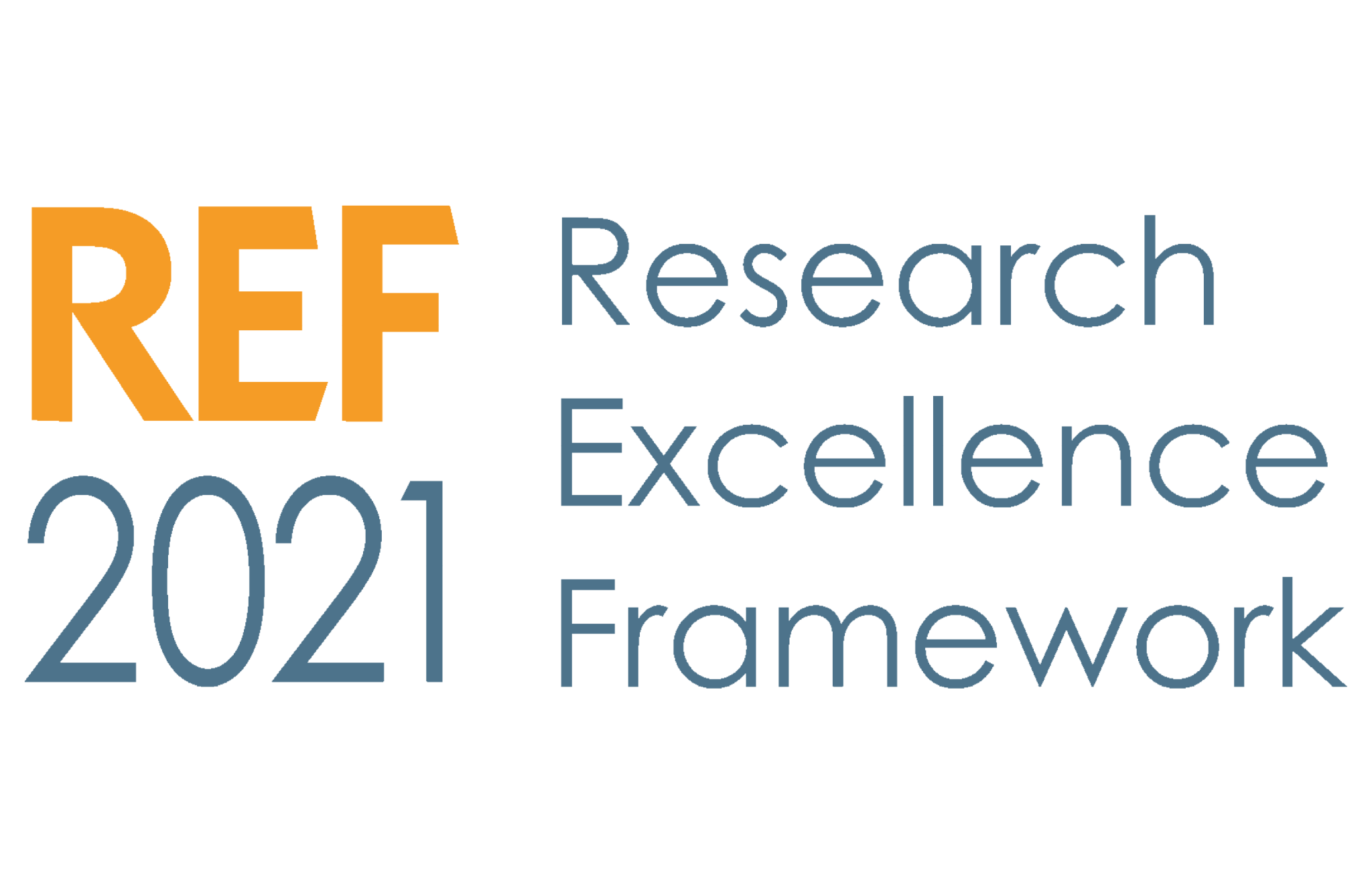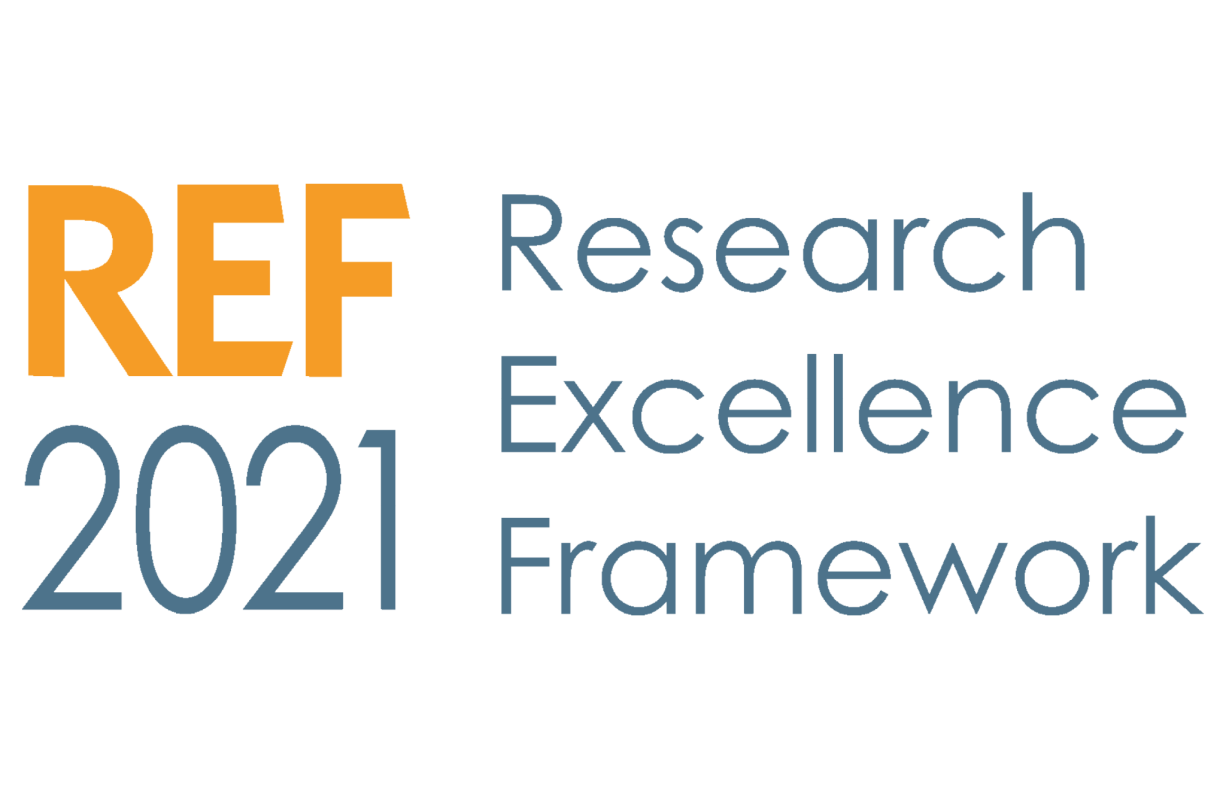 課程名稱
Master of Business Administration
頒授機構
University of Bolton, WINC
進階途徑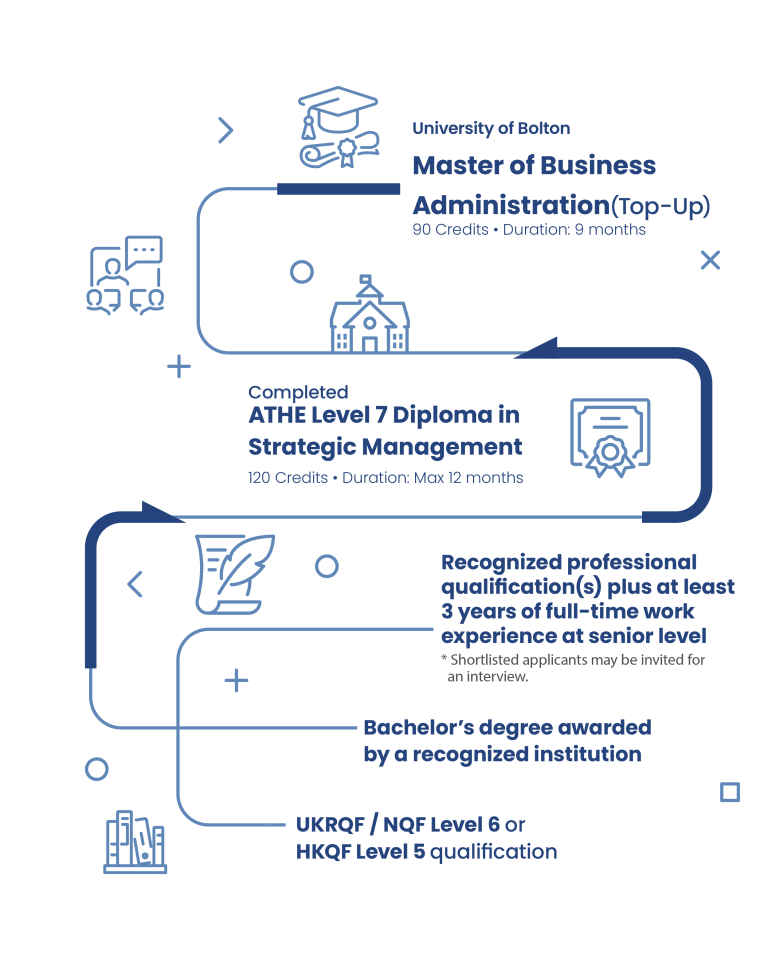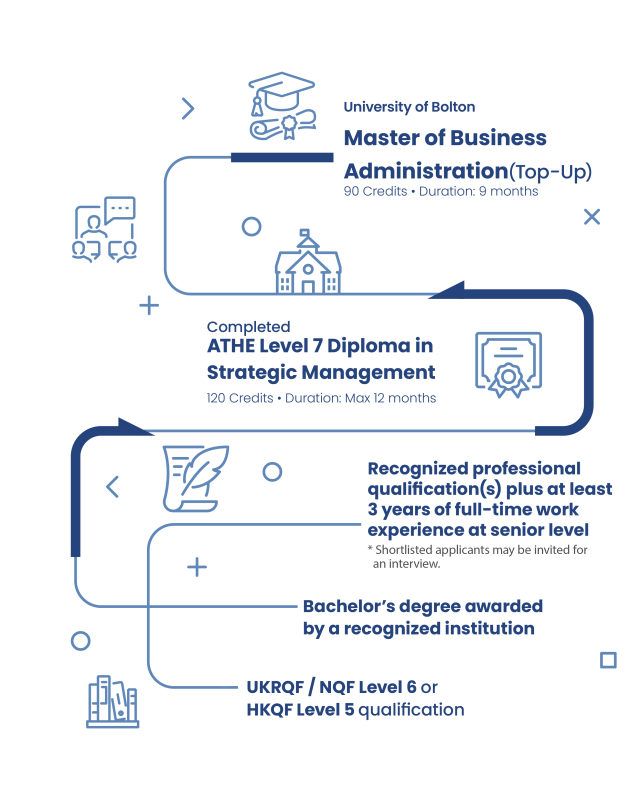 入學要求
英国 RQF/NQF 6 级;或 HKQF 5 级资格或
由认可机构授予的学士学位或获得认可的专业资格,外加至少 3 次高级全职工作经验。入围的申请人可能会被邀请参加面试。
英文要求:
雅思6.5;阅读和写作必须在6.0 或HKALE E 级英语使用或以上,或香港中学文凭考试英语3级或以上的语言或满足UK EDUCATION的考官资格考试,如果需要的话。
您现有的教育资格和工作经验将被直接考虑在内,并尽可能允许模块豁免。
The University of Bolton traces its origins back to 1824[5] with the founding of Bolton Mechanics' Institute. In 1887, the Committee of the Mechanics' Institute decided that the town's apprentices required technical instruction for the rapidly expanding engineering advances being made at the turn of the nineteenth century. This resulted in the creation of the new Technical School with student numbers rising to more than 1,500.
In 1926, Bolton Technical School became a college. Fifteen years later a new building was opened offering a wide range of technical education choices, with engineering the most popular. In 1964, Bolton Technical College and Bolton Institute of Technology were divided into two separate organisations. A J Jenkinson was Principal of the Technical College, Bolton College of Education (Technical) and then the first Principal of Bolton Institute of Technology.
Bolton Institute of Higher Education was formed in 1982 by the merger of the Bolton Institute of Technology and Bolton College of Education. The first principal of BIHE was John McKenzie, who was succeeded by Bob Oxtoby. Oxtoby began the campaign for university status.
An £8.3 million extension project began in 1991 with the purchase of the former Eagle Factory. Bolton Institute was awarded the right to award taught degrees in 1992, with the powers to award research degrees in 1996.[5] In 1998, Mollie Temple became the third principal and successfully led the institution to achieve university status in 2004.[5]
Introduction to Anglia Ruskin University MBA
The Anglia Ruskin University MBA ranking ranks high, and the Anglia Ruskin University MBA reviews have a good evaluation, which has attracted many students.
Anglia Ruskin University (ARU), founded in 1858, has a long history of more than 160 years. The university is located in Cambridgeshire, England, adjacent to the University of Cambridge. Anglia Ruskin University has more than 25,500 students and awards more than 300 bachelor, master and doctorate degrees. It is one of the universities with the most students in the UK. ARU's majors cover a wide range, from various science and engineering majors to law, business and management, education, literature, art, language, etc., with strong academic strength in many disciplines, and it is one of the largest comprehensive universities in the east of the UK.
The Anglia Ruskin University MBA ranking is as follows:
Times World University Rankings ranked Top301-350 in the world for many consecutive years.

Global Top 201-250 in Management and Economics (Times World University Rankings 2020)

Ranked 41 in the UK (Times World University Rankings 2020)

British government TEF teaching quality evaluation "Silver level"

British college student satisfaction survey, student satisfaction ranks among the best in the UK

University famous for innovation
Anglia Ruskin University MBA accreditation
Anglia Ruskin MBA top-up is internationally renowned. As part of ARU's internationalization, ARU cooperated with famous academic institutions all over the world to set up the international Anglia Ruskin top-up MBA program. International students can study locally. After completing the course and thesis, they will be awarded the Anglia Ruskin MBA degree, Anglia Ruskin The University MBA accreditation degree is consistent with the degree obtained in this school. Students will also be invited to the UK to attend the graduation ceremony and join the ARU MBA top-up alumni association.
The Anglia Ruskin University MBA top-up consists of two parts and a total of 180 credits. Students will take 10 modules and complete their dissertations in 18 months. Through the study of the latest management theory and a large number of case studies, master the comprehensive knowledge of modern enterprise operation, establish strategic thinking, and possess comprehensive operational capabilities. After completing ARU MBA Dissertation (Entrepreneurship Action), students will soon be awarded the Anglia Ruskin MBA Master of Business Administration.
Anglia Ruskin University online MBA top-up
Online Learning Distance online learning is a new type of learning mode, but it has proved to be very popular. In the past ten years, more than 4,000 students from 96 countries/regions have passed the Anglia Ruskin University online MBA top-up study.
If you choose Anglia Ruskin University online MBA top-up, you will get the full support of the school throughout the course. Using the online learning management system, you can access a wide range of learning resources, participate in online seminars, and join an active discussion area to discuss ideas and assignments. In addition, our professional tutors will provide suggestions and regular feedback at any time.
The course emphasizes cultivating students' ability to solve practical problems. The course combines the latest management theories and rich case studies, focusing on the actual operation of modern business organizations. Through learning, students will master the theoretical foundation and management tools of business organization operations, be familiar with major challenges that companies may encounter in their operations, can discover, analyze and solve problems, establish strategic business logic, and thus have operations Sufficient capacity and knowledge reserves of commercial organizations.
Anglia Ruskin University MBA, minimize fees to complete the MBA course
Anglia Ruskin University MBA reviews have received numerous praises, and Anglia Ruskin University MBA accreditation has passed the major, which naturally attracted many students to study Anglia Ruskin MBA top-up. So how much are Anglia Ruskin University MBA fees? Please contact UK Education for details, so that you can complete the UK MBA program in Hong Kong at the lowest price and the most convenient way to study.
UK Education has many years of professional career guidance experience. The career consultant will recommend suitable courses according to your requirements and provide you with one-stop university registration services, assisting you in solving relevant application forms, recommendation letters, and English resumes. Wait for the application to be difficult. From post-bachelor post-graduate diploma to master's degree, UK Education will tailor-made one-stop advancement services for you. Professional advancement consultants will answer all kinds of advancement problems for you and promote you to the most suitable degree.
Anglia Ruskin top-up MBA is 100% remotely taught. You don't need to give up your job, you can also take ARU MBA, and you can apply the knowledge you learn to your work and use your work experience to assist you in learning.
At the same time, UK Education will provide you with a database of ARU MBA top-up, including various professional courses, to help you choose the most suitable major and degree.
The Anglia Ruskin University MBA top-up program allows you to enjoy the most professional teaching experience with the lowest Anglia Ruskin University MBA fees. Please call: 69659888 to contact the admissions team of UK Education for details.